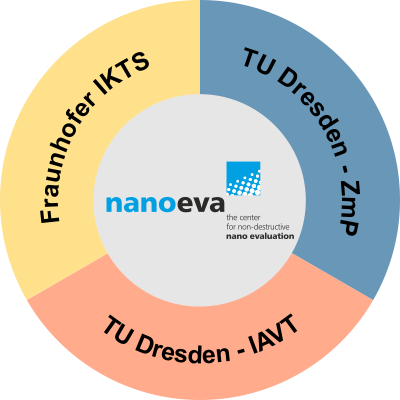 Fraunhofer Institut for Ceramic Technologies and Systems
The Fraunhofer IKTS, especially its branch Dresden-Klotzsche, is an expert in the field of material diagnostics using methods of non-destructive and destructive testing. For more than 20 years, the scientists and engineers are developing physical techniques and equipment solutions for the non-destructive testing of materials, material systems, components and modules. They develop test procedures for electronics quality assurance as well as for robustness validation and reliability testing. The business unit "Testing of electronics and optical methods" of Fraunhofer IKTS has available methods and procedure knowledge about material characterisation to fit to lots of test demands. Simulation of structural mechanics, micro mechanical material characterisation and destructive test methods with integrated in-situ measurement, all this is applied for stress suitable design of components, for quality testing and for reliability evaluation of electronic components packaging.
The Institute of Electronic Packaging Technology (IAVT) and the Centre for Microtechnical Manufacturing (ZmP) are working together already more than 20 years in research and education. Together they represent one of the largest university research institutions in Germany active in the field of Electronic Packaging. Technologies and processes for electronics packaging are the focus of research, education and scientific services activities of IAVT and ZmP. This holistic approach as well as an excellent infrastructure of technological and diagnostics equipment are the basis for the scientific work in fields like organic and in-organic substrate technologies, assembling technologies for first and second level interconnects, 3D integration and optical interconnect technologies, module reliability of characterisation and diagnostics in electronics technology.