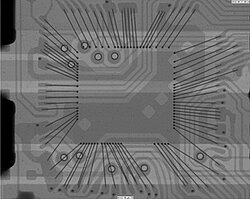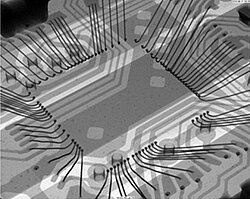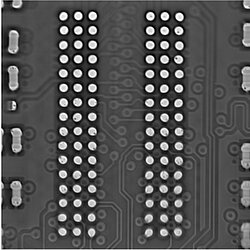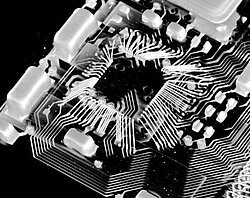 The goal of X-ray inspection is a drawing of the inner structure of the specimen caused by the absorption of X-ray radiation in that object. The excitation of a target (e.g. made of Tungsten or Diamond) with accelerated electrons in the X-ray tube generates X-ray radiation. That radiation is cone-shaped emitted from the target, penetrates the specimen and then arriving at a detector, where an image is generated caused by the residual radiation, that means not absorbed radiation. The degree of absorption depends on…
… the wavelength of the X-ray radiation,…
… the atomic number of the penetrated elements,…
… the density and…
… the thickness of the materials.
That causes limitations concerning the visibility of object details by X-ray, e.g. if the contrast difference between neighbouring materials is too low or if one material "shadows" another.
The reachable magnification depends on the distances relation between X-ray source (target), specimen and detector.
One can acquire X-ray images as single images (radiography). Single images captured from different view angles can deliver better information about the inner structure of the specimen.
Many single images from around the object can be combined using appropriate algorithms to get a 3D model of the specimen. That makes it possible to receive detailed images of particular planes of the object (laminography) or of the entire volume of the object (tomography). Especially using tomography one can make lots of analyses in the existing volume model, e.g. virtual cross sections.